Argentina Wing
The Delta Alliance Argentinean Wing (DAAW) aims to generate a robust platform for interaction among institutions within the Paraná Delta to develop knowledge and actions towards an increase of the resilience capacity of the area, as well as an improvement of its governance at all levels. The Wing is coordinated by Verónica Zagare (TU Delft). DAAW is formed by Fundación Torcuato Di Tella, Instituto Nacional de Tecnología Agropecuaria (INTA), Fundación para la Conservación y el Uso Sustentable de los Humedales / Wetlands International, Instituto de Investigaciones e Ingeniería Ambiental -3iA-, Instituto Superior de Urbanismo, Territorio y Ambiente -ISU- and Centro de Investigaciones de Políticas Urbanas y de Vivienda -CIPUV-.
Paraná Delta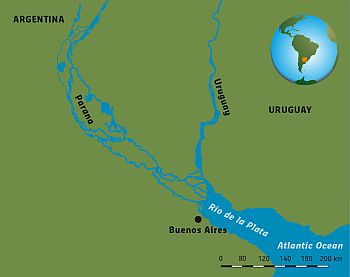 The Delta of the Paraná River is one of the largest coastal wetlands systems of Argentina, spreading over 320 km, comprising a vast extension of more than 22.587 km2. The Delta presents a variable width, from 18 km up to 100 km. According to landscape parameters and hydrologic regimes it presents different landscape units distributed in three zones: Upper, Middle and Lower Delta.
The Delta is rich in biodiversity and natural resources and faces the pressures of urban growth, unsustainable agricultural practices and the consequences of climate change. It is a natural capital which represents a valuable benefit for the human population due to the ecosystem's goods and services.
>> Read more
>> Read more: Deltasud website
Coordinator
Verónica M.E. Zagare, TU Delft - vzagare(at)deltasud.org
>> Read more: Argentina Wing network
>> Read more: Deltasud website
Activities / news
Seminar: Innovative strategies in basins and deltas and their implementation mechanisms (25 October 2016)
Seminar co-organized by the Delta Alliance Argentinean Wing, Fundación Humedales - Wetlands International and Fundación Torcuato Di Tella, with the support of the Embassy of the Netherlands in Buenos Aires.
>> Read more: Deltasud website

Segundo Taller de Escenarios urbano-ambientales para el Bajo Delta del Paraná

Presentation given by Verónica M.E. Zagare, TU Delft / Faculty of Architecture during the Workshop 'Urban-Environmental Scenarios for Lower Parana Delta' on 24 April 2015.
>> Read more: Deltasud website
Publications
Zagare, V., Sepúlveda, D. (2016). Scenario Development and Participatory Processes as a Tool for Integrating Urban and Environmental Planning. International Journal on Climate Change: Impact and Responses, Volume 8, Issue 4, pp.65-88 (ISSN 1835-7156)
>> Read more
Fabricante, I., Minotti, P., Kandus, P. (2015) Urbanizaciones Cerradas en Humedales: Análisis espacial en el Delta del Paraná y en las Llanuras Aluviales de sus Principales Tributarios en Sector Continental de la Provincia de Buenos Aires, Argentina. Fundaci{on Humedales / Wetlands International; Laboratorio de Ecología Teledetección y Ecoinformática (LETyE) Instituto de Investigación e Ingeniería Ambiental (3iA) Universidad Nacional de General San Martín (UNSAM)
>> Read more
Zagare, V. (2014). Dichotomous Delta: between the natural and the metropolitan. The case of the Parana Delta, Argentina. Built Environment. Alexandrine Press. Volume 40, Number 2, pp. 213-229(17)
>> Read more
>> Read more: publications
>> Read more: Deltasud website