Kenya Wing
Tana Delta (general information)
>> More information will follow.
Coordinator
Peter Odhengo - odhengo(at)gmail.com

News and activities
Capacity building for local delta communities (November 2020)
Kenyan coastal areas are experiencing accelerated ocean level rise, intrusion of saline water on the coastal farm land thereby causing displacements of local communities, affecting local communities and accelerated degradation of delta biodiversity.
Through lobby and advocacy and the development of a policy brief, the Kenya Wing therefore intends to build capacity for local delta communities for effective planning and protection of endangered deltas ecosystems in Kenya. They aim to support decision making, lobbying and networking for ensuring effective delta planning involving all key stakeholders, ensure sustainable management and utilisation of delta resources, capacity and continental knowledge sharing.
Land Use Planning as pillar for delta planning in Kenya
The Land Use Plan for the Tana River Delta guides the involvement of all stakeholders in this Kenyan Delta. On the 8th of July, the planning for Yala Delta reached a climax when the Governor of Siaya County in Western Kenya signed the Yala Delta Land Use Plan and Strategic Environmental Impact Assessment.
>> Read more
In June 2019, Tana county received a near $10 Mln (mostly from GEF, and EU) grant to implement the Tana Delta Land Use plan. Yala Delta plan now has also attracted £341,000 to support the Siaya and Busia counties to invest in policy development in support of the Delta plan. It is expected that once completed, the Yala delta will attract more than $ 10 Mln for its implementation. The delta secretariat together with partners now moves to develop the Nyando River Delta Land Use Plan and Strategic Environmental Assessment. The heavily developed Nyando catchment and delta is of high economic importance and empties in the Lake Victoria lake. It will be the third delta in Kenya to be planned.
Innovative solutions for environmental challenges and sustainable consumption and production (Fourth session of the UN Environment Assembly, Nairobi, Kenya (11-15 March 2019)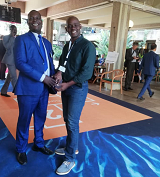 Delta Alliance Wing coordinators from Kenya and Benin met UNEP, IUCN and others during the fourth session of the UN Environment Assembly (UNEA-4) that took place from 11-15 March 2019 in Nairobi, Kenya. Under the overall theme, 'Innovative Solutions for Environmental Challenges and Sustainable Consumption and Production,' the following topics were addressed: Environmental challenges related to poverty and natural resources management, including sustainable food systems, food security and halting biodiversity loss; Life-cycle approaches to resource efficiency, energy, chemicals and waste management; Innovative sustainable business development at a time of rapid technological change.
The opportunity was taken to exchange recent Delta developments in Benin and Kenya, discuss sustainable financing and promote the Delta Alliance and its 2019 programme including the plan of action for the establishment of the Africa Deltas Alliance Network on research and knowledge exchange (AfDAN) lead by the Kenyan Wing Coordinator. Mr. Peter Odhengo.

Round Table: Sustainable Management of Deltas in Kenya-Policy and Decision Dialogue (26 May 2017)
With presentation a.o. on: Overview of the state of Tana delta plan implementation, Overview of Nyando Delta Planning, Policy requirements for sustainable delta management, The role of private sector in ensuring sustainable deltas in Kenya
>> Read more

Publications

Meeting report: Sustainable Management of Deltas in Kenya-Policy and Decision Dialogue Round Table Consultative Meeting (26 May 2017)
The objective of the workshop was to engage with policy and decision makers as stakeholders drawn from various stakeholders from Lake Victoria Region comprising of 16 counties. and to share experiences from other deltas under Delta Alliance Initiative and to start the Nyando Delta Plan development consultations.
Delta Alliance Kenya Wing
>> Read more
Tuesday 25 July 2017