Netherlands Wing
The Netherlands is a low-lying country where the rivers, the IJsselmeer and the North Sea provide an abundance of water. The delta must protect itself against flooding and ensure a sufficient fresh-water supply. The Netherlands must also prepare itself for rising sea levels, soil subsidence and higher temperatures. The Delta Programme is designed to rise to these challenges. The knowledge issues from this Delta Programme return in the National Water and Climate Knowledge and Innovation Programme (abbreviated to NKWK in Dutch), which has been operational since 2015.
The NKWK comprises of fourteen research tracks, in which government authorities, knowledge institutes and companies collaborate on pilot projects, topical issues and long-term developments. The NKWK serves as the Dutch Wing of the Delta Alliance.
>> Read more: NKWK programme
>> Read more: NKWK research tracks
The Dutch Delta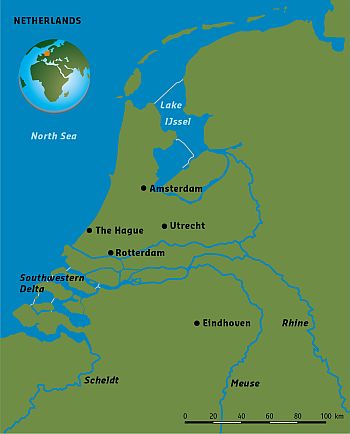 The Netherlands is a river delta. In the past the rivers flowed to the sea without restraint. Today they are largely contained by groynes and dykes.
The current rivers area consists of the river basins of the Meuse, IJssel, Scheldt and Rhine.
In the west there is a densely populated coastal zone that is home to the Randstad conurbation – the economic heart of the Netherlands.
It has a population of 9 million people and accounts for 70 percent of the total income earned.
Coordinator
Cees van de Guchte, Deltares - cees.vandeguchte(at)deltares.nl
Activities / News
> Read more: Activities / News archive
Publications
Publication: Hydraulic engineering in the social-ecological delta: understanding the interplay between social, ecological, and technological systems in the Dutch delta by means of "delta trajectories"
Several of the world's largest deltas have recently been conceptualized as social-ecological delta systems. Although such conceptualizations are valuable in emphasizing complex interaction between social actors and ecological processes in deltas, they do not go into specific dynamics that surround technological developments in the hydraulic domain. By drawing from concepts originating in socio-technical systems research, we stress the importance of technology, particularly the domain of hydraulic engineering, in shaping a delta's future.
Martijn F. van Staveren, Jan P. M. van Tatenhove in Ecology and Society, Monday 18 January 2016
Reactive versus anticipative adaptive management of Deltas; The Sacramento-San Joaquin Delta and the Rhine-Meuse Delta compared In this paper Californian Adaptive Management (AM) and Dutch Adaptive Delta Management (ADM) are compared. The concepts are introduced in a policy context to deal with prevailing types of uncertainty in water management in the Californian Sacramento-San Joaquin Delta and the Dutch Rhine-Meuse Delta respectively. T.J. Vlieg and M. Zandvoort in Water Governance 05-06, 2013
Delta Alliance electronic board room session. The Rhine-Meuse delta, the Netherlands , Cees van de Guchte & Bart Makaske, Deltares & Alterra, the Netherlands (2010). Presented at the international conference Deltas in Times of Climate Change, 29 September - 1 October, Rotterdam, the Netherlands.
Watch the Knowledge for Climate Research Programme Videos related to the Dutch Delta on the Youtube channel (English subtitles).