China, Yangtze Wing
The Delta Alliance Yangtze River Delta Wing (YRDW) is a knowledge-driven network in China under the Delta Alliance with the mission of improving the resilience of the deltas in general. YRDW focusses on Yangtze River basin in particular, which brings together Chinese government, academic institution and organizations supports a joint perspective for addressing issues of environmental problems in the Yangtze.
This Wing is coordinated by Prof Wenwei Ren, who is from WWF China. Contact: WWRen(at)wwfchina.org.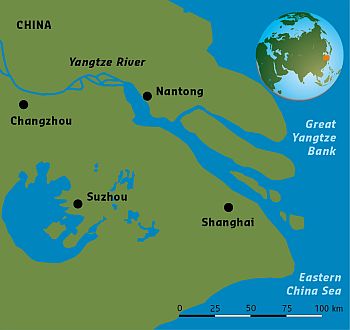 Yangtze Delta (general information)
>> Read more
---
Back ground information, news articles and a video.
Title
Summary
Contact
2019 Yangtze River Wetland Protection Network Annual Meeting held in Qinghai
Yangtze River Wetland protection Network Annual Meeting is held in the Qinghai province. National Forestry and Grassland Bureau, WWF China, and more than 200 officials, experts, and special guests and representatives from 12 provinces in Yangtze River Basin joined the meeting. They discussed the Yangtze River Economic Belt Development Strategy and discuss how to further strengthen the protection and restoration of the wetlands in Yangtze River, and published 'Xining Declaration'. From 2007 established Yangtze River Wetland protection Network, more than 20,000 square kilometers of wetlands in the Yangtze River Basin have been effectively protected and managed. From 2016 to 2018, the central government allocated 2.068 billion yuan to implement the central fiscal wetland subsidy project and the compensation for wetland ecological benefits. More than 200 wetland protection projects were carried out, and 0.3036 million mu of farmland return to the wetland. Currently, Yangtze River Wetland Protection Network covers more than 140 species of waterbird and the most important waterbird wintering areas, breeding grounds and stopovers in the Yangtze River Basin. Meanwhile, 21 internationally important wetlands and 2 international wetland cities and more than 250 wetland protected areas are effective management. The wetland protection system in the Yangtze River Basin has been further improved, and the wetland protection and restoration in the Yangtze River Basin have achieved remarkable results.
>> http://www.shidi.org/sf_755FB0422134455DBFC943C5511B2F73_151_qhsd.html (in Chinese)
Xiang Nei
China bans 959 illegal wharves along the Yangtze River and remediation actions will extend to tributaries
In 2017, the illegal dock along the Yangtze River has been effectively rectified. The 959 illegal docks which were banned along the Yangtze River were completely dismantled at the end of September. Among, 809 docks completed ecological greening and restored more than 100 kilometers of ecological coastline. The next step is to standardization the dock in the river basin, accelerate the ecological greening and repair the Yangtze River shoreline; speed up the establishment of a long-term terminal supervision mechanism to prevent illegal docks, illegal sand mining. Meanwhile, identify how to promote rectification actions to tributaries, achieve co-combat illegal docks and illegal sand mining in mainstream and tributaries.
>> https://www.chinanews.com/sh/2017/12-28/8411621.shtml (in Chinese)
Yunyun Tang

Yangtze River Protection

With economic development, Yangtze River suffered industrial pollution, agricultural runoff, loss lakes, and seasonal flooding. In 2016, Chinese government published Yangtze River environmental protection guideline. After environmental regulation were released chemical plants were closed, the green manufactories were moved in. Over the past few years, around 500 polluted areas are cleaned up. Overall, the water quality of Yangtze are improved.
>> https://www.youtube.com/watch?v=YzBb_y9bf0A

News China TV
Pilot sponge city construction along the Yangtze River to explore the comprehensive improvement of the urban water environment
City flooding is caused by weather condition and backward drainage pipe network construction. From 2015, China started the sponge city projects as the methods of water governance in cities. the waterlogging problem has been well mitigated in 2019, compared to 2016. In July 2019, 4000 experts who are working on Sponge city were gathering the Yangtze River Economic Belt (Wuhan) Water Development Technology Expo in Wuhan to discuss the water governance in cities. Experts thought promote the construction of sponge city is important for controlling surface water runoff in cities, help to achieve rainwater source reduction and purification.
>> http://huanbao.bjx.com.cn/news/20190624/988227.shtml (in Chinese)
Yangtze Business Daily

Constructing the eco-friendly community in the Yangtze River Delta region

The Yangtze River Delta is one of the regions with the most active economic development, the highest degree of openness and the strongest innovation capability region in China. It is also an important meeting point of the "Belt and Road" and the Yangtze River Economic Belt. Currently, the Yangtze River Delta region has made a lot of active explorations in regional air pollution joint prevention and control, comprehensive prevention and control of water pollution, emergency treatment of transboundary pollution, regional hazardous waste environmental management, and explored a good ecological environmental protection and consultation mechanism. This situation provides excellent ecological environment support and guarantees for the high-quality integrated development of the Yangtze River Delta.
>> https://www.cenews.com.cn/opinion/201905/t20190531_899727.html (in Chinese)
Zheng He