About Delta Alliance

What is Delta Alliance?
Delta Alliance is an international knowledge-driven network organization with the mission of improving the resilience of the world's deltas. With increasing pressure from population growth, industrialization and a changing climate, it is more important than ever that these valuable and vulnerable locations increase their resilience to changing conditions. Delta Alliance brings people together who live and work in deltas. They can benefit from each other's experience and expertise and as such contribute to an increased resilience of their delta region.
Delta Alliance has 16 network wings where activities are focused: California Bay (USA), Ciliwung and Mahakam (Indonesia), Mekong (Viet Nam), Rhine-Meuse (The Netherlands), Nile (Egypt), Pantanal (Brazil), Ganges-Brahmaputra (Bangladesh), Mississippi (USA), Yangtze (China), Parana (Argentina), Ayeyarwady (Myanmar), Zambezi(Mozambique), Tana (Kenya), Volta (Ghana), Ebro (Spain), Keelung, Lanyang, Choshuichi and Gaoping (Taiwan). Additional network wings will soon be included in Delta Alliance to further benefit from the wealth of information available in these deltas.

Why Delta Alliance?
River deltas regions may be considered some of the wealthiest places in the world, drawing large populations with their rich environmental resources and strong economic potentials; they are hubs of innovation, biodiversity, industrial and agricultural productivity, and home to some of the world's fastest growing cities.
Delta regions are also some of the most highly stressed areas in the world, with great competition for land and water use, and experiencing impacts from all activities occurring in the river basin. Natural characteristics of river deltas make them vulnerable to complex problems such as flooding, subsidence, and salt water intrusion. Human impacts increase their vulnerable by reducing natural resilience, introduce additional problems, and devastate vital ecosystems. Both natural and human-built capital are at risk in river delta regions, making their protection essential.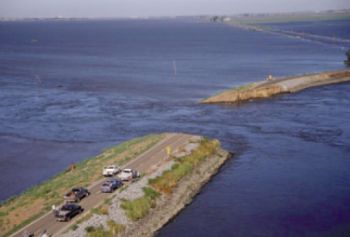 Human populations have inhabited river deltas for thousands of years; during this time many methods for living in and protecting these naturally vulnerable regions have been developed, yet climate change promises to change the natural conditions in these regions and elsewhere at a rate never before experienced by humankind. Climate change is expected to increase the severity of many of the problems faced in river deltas - this combined with increasing stress from economic and population growth make addressing the vulnerabilities of river delta regions truly urgent. New knowledge must be developed in order to respond to levels of stress and a climate that these regions have never dealt with in the past.
Research and investment in addressing the unique challenges of river delta regions are happening in locations around the world. The experiences and research from across river deltas must be shared, and collaborative research must be undertaken to support delta regions in responding quickly and effectively to their mounting challenges. Solutions for the complex problems faced in river delta regions will not be found in one discipline alone, but in combining the knowledge of both hard and social sciences – integration of knowledge across disciplines, sectors, and regions will yield new and critical insights into how best to improve the overall resiliency of river delta regions worldwide.
In spring 2010, Delta Alliance conducted a survey among its members to explore their expectations of an international delta network. Several questions were asked, amongst others concerning the means of communication within the network, membership of the network and funding. An overview of the most important results of the questionnaire you can find here (pdf).
Organisation
In June 2011, the international network organisation of Delta Alliance has become a legal entity by establishing the Foundation 'Delta Alliance International'. Delta Alliance International is managed by an International Governing Board consisting of Mrs. Tineke Huizinga, Prof. András Szöllösi and Dr. Lifeng Li. The Delta Alliance wings are represented in the Advisory Committee which main task is to advice the Governing Board on strategic and operational issues. Mrs. Renske Peters is the director of Delta Alliance International.
International Governing Board
The International Governing Board consists of persons with extensive experience in global delta issues. Mrs. Tineke Huizinga is the former Dutch minister of Housing, Spatial Planning and the Environment (VROM). Prof. András Szöllösi was till September 2014 the rector at UNESCO-IHE Institute for Water Education, the Netherlands. Prior to this position, Prof. András Szöllösi was the Director of the Division of Water, Secretary of the International Hydrological Programme (IHP) and Deputy Director- General of the Natural Sciences Sector of the United Nations Educational, Scientific and Cultural Organization (UNESCO). Dr. Lifeng Li obtained his PhD in Geography at the Chinese Academy of Sciences. Currently he is the Director Freshwater at WWF International.
Advisory Committee
The Advisory Committee of Delta Alliance International consists of the Wing Coordinators. Tasks of the Advisory Committee include formulating recommendations to the International Governing Board in the field of strategy, scientific tendencies and technologies in relation to deltas, reviewing and evaluating current projects in the field of scientific research and development, developing scientific policy plans and strategies, and giving solicited as well as unsolicited advice to the International Governing Board.
Advisory Committee members Delta Alliance International

| | |
| --- | --- |
| Name | Wing |
| Verónica Zagaré | Argentina |
| Monowar Hossain | Bangladesh |
| Carlos Padovani | Brazil |
| Steve Goldbeck | California |
| Wenwei Ren | China |
| Mohamed Abdel Motaleb | Egypt |
| Jan Sopaheluwakan | Indonesia |
| Robert Twilley | Mississippi |
| Cees van de Guchte | Netherlands |
| Le Quang Minh | Viet Nam |
| Zaw Lwin Tun | Myanmar |
| Dinis Juizo | Mozambique |
| Peter Odhengo | Kenya |
| Ms. Shih-Chun Candice Lung | Taiwan |
| Carles Ibañez | Spain |
| Ken Kinney | Ghana |
Director
Mrs. Renske Peters is the director of Delta Alliance International and coordinates the interaction between the International Governing Board, Advisory Committee and the International Secretariat.
International Secretariat
The International Secretariat is based in the Netherlands and is amongst others responsible for supporting the International Governing Board and the Advisory Committee, carrying out administration and documentation tasks, initiating and coordinating project activities and organizing and taking part in international meetings, seminars and workshops.
The Delta Alliance secretariat is now supported by the Dutch "Partners for Water" Porgramme.
Wings
A Wing is a network of organizations in a specific country or area, which is dealing with delta-related issues in a specific country or area. A Wing must be recognized as such and admitted to the Foundation by the International Governing Board. Currently, Delta Alliance International includes 16 Wings.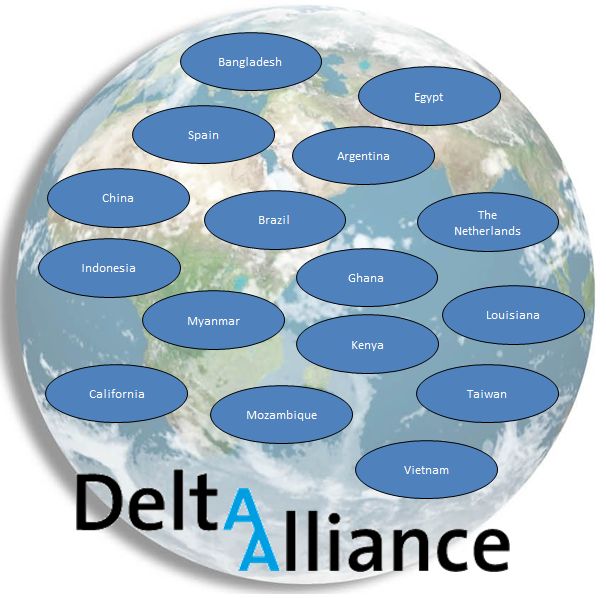 Mission: To improve the resilience of deltas worldwide
The strategy to realize this mission is outlined in the Delta Alliance Strategic Framework, and includes the following points:
envisioning and defining resilience for deltas
measuring and monitoring resilience
reporting and creating pressure for improved resilience
providing inspiration for improved resilience
providing assistance for improved resilience
The Strategic Framework (pdf, september 2010) further outlines the Delta Alliance resilience strategy and declaration, milestones and objectives, organizational and network development, projects, and funding. The framework is an outcome of the scoping activities, which explored opportunities for an international delta network starting with partners in California, Indonesia, The Netherlands, and Viet Nam. As the development of Delta Alliance is a dynamic process, the strategy requires a periodic (preferably annual) review by the Advisory Committee and the International Governing Board.
Read the Delta Alliance 2011 brochure.