Vietnam, Red River Wing
| | |
| --- | --- |
| | More information will follow. |
Coordinator
Prof. Dr. Pham Quy Nhan, Hanoi University of Natural Resources and Environment (HUNRE) - phamquynhan(at)yahoo.com
News and activities
Study on plastic transport in the Red River (July 2020)
Plastic waste is a serious problem in the modern world because its low-recycling rate is alarmingly polluting the ocean. In Vietnam, media is constantly reporting the pollution of plastic waste on the beaches and coastal regions, it has changed the aquatic ecosystems and affects people's health and livelihoods. These facts have triggered the need for information about the severity of plastic waste being transported to the sea, mostly by in-land rivers. This is a very new topic, there has not been much research implemented to quantify the amount of plastic waste discharged into rivers from major cities in the Red River Delta, or to simulate the process of transporting plastic waste from the sources into the sea under a close interaction between plastic waste and water environment.
The Red River Wing will initially create a preliminary understanding of the characteristics of plastic waste in the Red River Delta region, and this background knowledge will set the stage for further careful studies on this topic by the researchers in the local DA Wing. HUNRE's students and lecturers will be sent to different areas of the Red River to monitor the amount of plastic waste that flows on the river. These activities will be conducted continuously for about a week to quantify the amount of plastic waste transported in the river and other related characteristics such as classification, characteristics, variations of the plastics, etc.
Additionally, the initiated studies also help to improve the capacity of students and lecturers at HUNRE. Thi Van Le Khoa is taking his first steps in his PhD journey at WUR, the Netherlands with the topic of Integrated Monitoring of Plastic in Rivers, Estuaries and Seas (IMPRES), and the initial insights gained through the activities are very valuable to him and his colleagues at HUNRE as well as the Hydrology and Quantitative Water Management Group of WUR to build a rational plan for the study.
Activities around water resource issues of the Red River Delta (December 2019)
Efforts are being made to promote the Faculty of Water Resources at the Hanoi University of Natural Resources and Environment (HUNRE), including building a sensible, youth-oriented communication strategy such as building a youthful Facebook page and developing media content tailored to the interests of students.
>> Read more

Application of remote sensing and citizen science in monitoring water resources in the Red River delta - fieldwork activities (December 2018)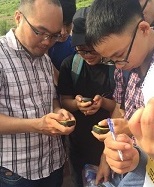 The objectives of the fieldwork were to validate the certainties of the results estimated by remote sensing analysis and to maintain the involvement of citizen in a data provider system which is jointly using the two free data sources: 1) remote sensing and 2) citizen science.
It can be concluded that continuous measurements of some water parameters in the Red River Delta are important to persistently build a dataset for both research and training. Annual activities continuously organised by HUNRE are building a bigger database and are better providing educational services.
Small funding prove that it certainly can provide many supportive activities if it is reasonably used.
>> Read more: factsheet
Meeting Vietnam Red River Wing, Red River Delta issues and initiatives (1 August 2017)
The Red River Delta Wing organised on 1 August a meeting to comprehensively review issues causing the decrease of water level in the Red River and assess the possibility of combining remote sensing and citizen science in solving the problem.
Delta Alliance Vietnam Red River Wing
>> Read more
Thursday 17 August 2017
Publications
Meeting report Vietnam Red River Wing, Red River Delta issues and initiatieves
On August 1, 2017, the Red River Delta Wing organised a meeting to discuss about issues causing decrease of water level in the Red River and measures that can be likely applied to solve the problem.
Subject of the Meeting: Red River Delta: issues and initiatives
Objectives of the Meeting:
- Comprehensively review the issues causing the decrease of water level in the Red River
- Assess possibility of combining remote sensing and citizen science in solving the problem
>> Read more
Thursday 17 August 2017
Publication: Participatory research on the effectiveness of drainage in the Red River Delta, Vietnam
H.P. Ritzema & R.A.L. Kselik (WUR) & Le Dinh Thinh & Le Quang Anh & Dang Ngoc Hanh & Nguyen Viet Chien & Trinh Ngoc Lan (Vietnam Institute for Water Resources Research, Hanoi) & Bui Thi Kim (Development for Women and Children-DWC, Hanoi, Vietnam), Irrig Drainage Syst (2008) 22:19–34, DOI 10.1007/s10795-007-9028-0
>> Read more
22 June 2007