Scenario Studies using Habitat Modelling
Purpose of the tool
Estuarine ecosystems often house important ecological values. Large scale engineering works (e.g. dams, dikes, sluices and flood gates, land reclamation etc.) in estuarine areas affect physical aspects as well as the ecology. Scenario studies using habitat modelling help to explore options for engineering works and their impact on the local ecosystem like changes in habitat and related species composition.
Target group
Policy makers, NGO's, research institutes.
Tool description
The model can project possible future scenarios for environmental conditions in order to facilitate decision making on spatial planning. By using available data on possible environmental changes, i.e. changes in sea level, salinity, tidal amplitude and so on, a prediction can be made on shifts in habitat and species composition. GIS and PCRaster is used to model and quantify areal habitat changes.
Result description
In a scenario study on the Southwest Delta in the Netherlands consequences of possible future changes on habitats were modelled. The environment in this delta is controlled by a series of dams and sluices, called 'Deltaworks', that were built for flood protection. The government wants to explore possible options to restore estuarine dynamics by re-opening dams.
The tool in practice
Several scenarios were explored to restore estuarine dynamics in the Southwest Delta. Some examples shown below enable a comparison of the kinds of habitats that will increase or decline in different scenarios. The different colors represent different types of habitat. Blue indicates deep water (fresh or salty, with or without a tide), brown indicates shallow water (fresh or salty, with or without a tide), green indicates land (fresh or salty, with or without a tide).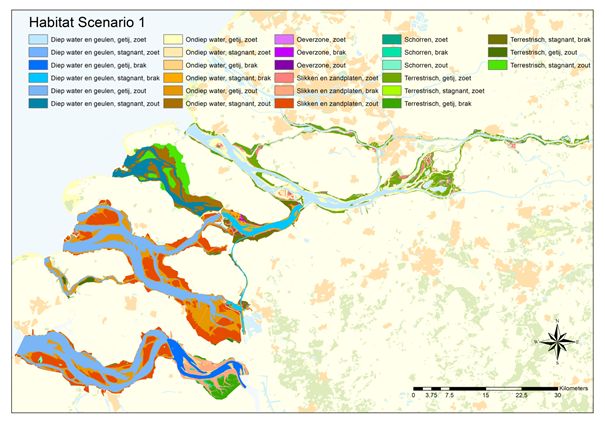 Scenario 1: current situation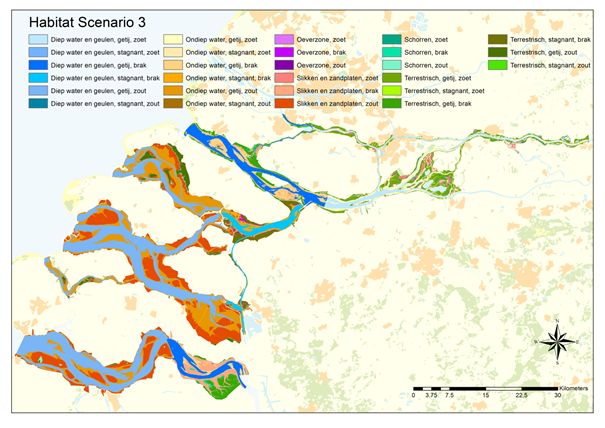 Scenario 3: restoration of limited tidal influence in the northern lakes and some habitat changes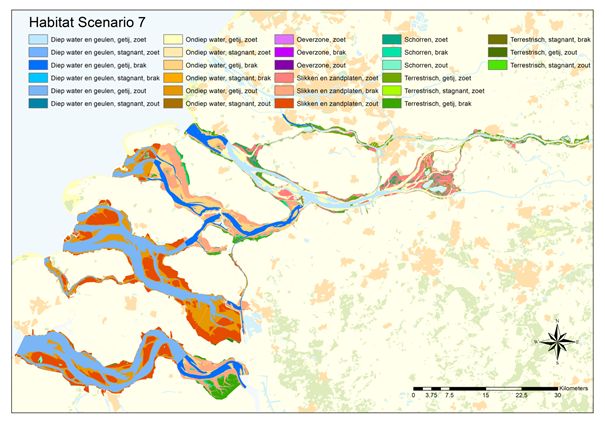 Scenario 7: restoration of an open estuary with large intertidal fresh-,
brackish- and saltwater habitats by removal of the deltaworks

Necessary inputs and conditions
Data availability (e.g. water depth, tidal range, salinity etc.) and a thorough understanding of the local ecosystem are a prerequisite for habitat modelling.
Contact data
Institute: IMARES
Jeroen Wijsman
+31 317 487114, Jeroen.wijsman(at)wur.nl
Tom Ysebaert
+31 317 487419, tom.ysebaert(at)wur.nl

Marijn Tangelder
+31 317 487540, Marijn.tangelder(at)wur.nl
Info: http://www.imares.nl/
Address: Korringaweg 5, 4401NT Yerseke
Phase and tool category: Monitoring and evaluation | Physical model
Spatial scale and time scale
This tool can be applied on various spatial and temporal scales to explore short term local options or large scale more long term options.
Tool availability
This tool is available through the contact persons.
Downloads