PlanningKit for Flood Management
Purpose of the tool
The goal of this flood management support system is to help in the societal discussion between stakeholders about which measures to implement and where. Data and the effects of different measures can be visualized in a user-friendly way.
Target group
To use in projects where policy makers and other stakeholders have conflicting interests.
Tool description
In the PlanningKit for Flood Management users can select a measure, or a combination of measures from a longer list in a database. Policy makers can thus build their own favourite strategies. Within a few second the screen visualises the effects of the chosen strategy. This way, different stakeholders can easily compare and discuss their strategies. The Planning Kit also contains additional information for each of the proposed measures, which can include a situation sketch, aerial photographs, cost estimates, ecological effects, amounts of material to be excavated for various soil types, etc.
The PlanningKit can also be used as a serious game with an educational goal. The game focusses on the importance of cooperation between different stakeholders and lets the users explore different strategies.
Result description
Different models have been created with the PlanningKit framework, such as the two below.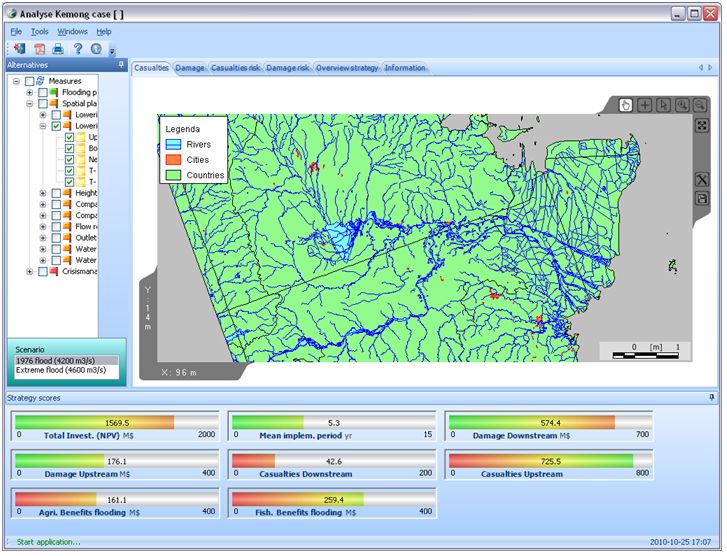 PlanningKit Flood Management Simulation Game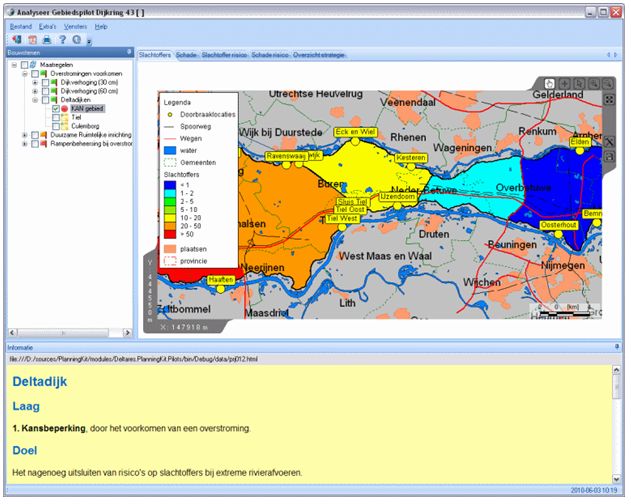 PlanningKit 'GebiedsPilot Dijkring 43'
The tool in practice
The framework has been used in a number of projects in the Netherlands, such as the 'Room for the River' project, but there has also been international interest, like the use for the Loire in France. One of the latest accomplishments of the PlanningKit is its help in forming an agreement in Rotterdam on dike reinforcement.
The PlanningKit was used as a serious game at the 4th World water Forum in Mexico and during a course for the Mekong River Commission in 2010/2011. (Games to Create Awareness and Design Policies for Transboundary Cooperation in River Basins: Lessons from the Shariva Game of the Mekong River Commission Water Resources Management: Volume 28, Issue 5 (2014), Page 1431-1447)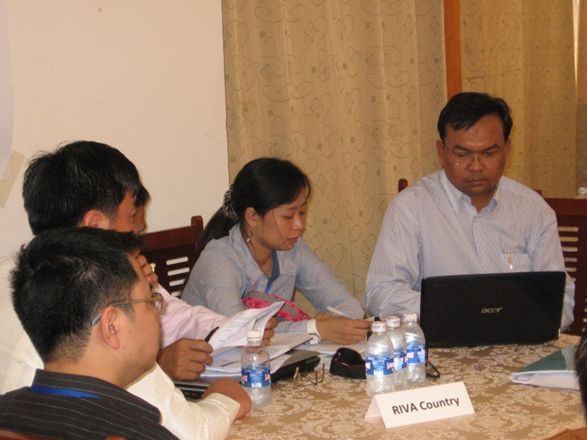 Necessary inputs and conditions
For this PlanningKit to be used successfully, it must be possible to quantify the effects of measures in some way. And the stakeholders must be prepared to share their hydrologic data.
Contact data
Institute: Deltares
Contact person: Andre Hendriks
Email: Andre.Hendriks(st)Deltares.nl
Telephone: 0031-88 335 8492
Tool information: Educational Version
Phase and tool category: Strategy Development and Planning | Physical models
Spatial scale and time scale
River basin to local.
No specific time scale.
Tool availability
Because the requirements for each planning process can vary widely, the PlanningKit is not an 'off the shelf' program. Deltares can help the client to specify the requirements for a particular project, after which the framework is used to combine the required components. The educational version can be downloaded online.