DENVISS: Delta Envisioning Support System
Purpose of the tool
DENVISS is a serious game about complex area development in delta-regions. Instead of supplying an abstracted case, it uses real data and maps of the area under study, which is supported by digital map-tables. It is a tool to support the communication between designers and different stakeholders, to understand each other and to come to an agreement in the planning process for an urbanized delta area.
Target group
For planners and designers who want to deal with a very differentiated group of actors and different interests.
Tool description
DENVISS makes use of map-tables, which are provided with a series of digital maps, representing different possibilities of different subsystems. Each subsystem (like the water-system, the portsystem, the system of urban patterns, etc.) is elaborated with a series of digital maps, which can be linked to other digital maps of other subsystems. During the game, actors can choose and change their preferred options for their subsystem, while designers immediately can show what the consequences are for other subsystems, while playing this game, actors learn to see in what sense the intervention in one subsystem influences other subsystems. During the game they come to a mutual understanding and agreements and deliver information which can be elaborated by designers into realistic plans.
Result description
The tool has been developed by a research-team 'Integrated Planning and Design in the Delta', funded by NWO. It has been applied in the South-West Netherlands delta with a number of different actors. The result is an 'Adaptive Framework', which is a spatial structure providing the possibility of combinations of ambitions by very different stakeholders: water management agencies, environmental organizations, real estate developers, local communities, individual citizens, etc.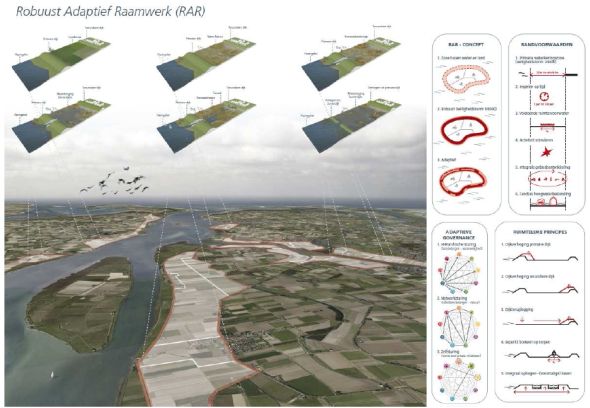 The 'Adaptive Framework' as a preliminary result of the pilot of DENVISS
The tool in practice
The tool has been applied in the Haringvliet-area in the South-West Netherlands delta, as a pilot project with relevance for other urbanized delta regions. Actors who were involved: local communities, nature organizations (WWF and Nature Monuments), Port of Rotterdam, Delta program, Water Boards, private developers, and agriculture representatives. The tool showed to be effective in speeding up processes of mutual understanding and decision making.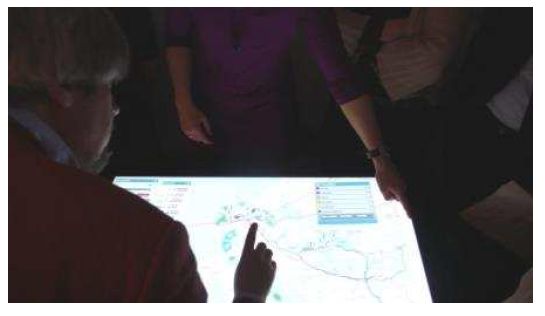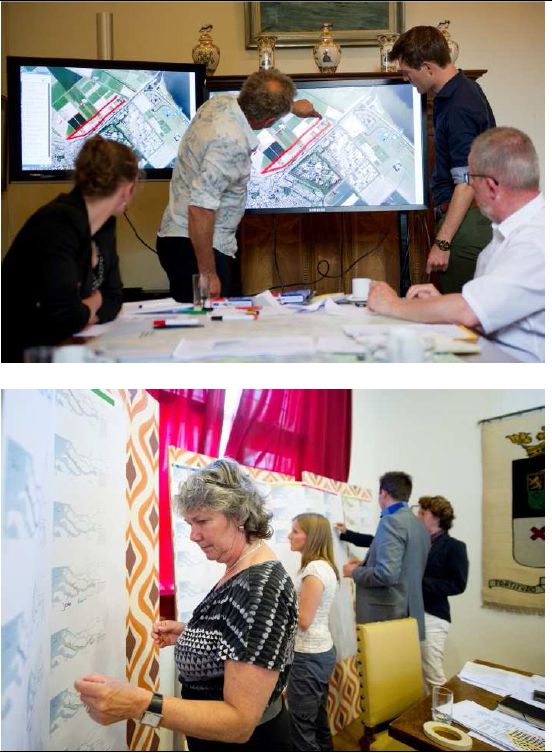 Necessary input and conditions
A profound historic analysis of the delta region under study
A profound analysis of recent plans and proposals for this delta region
A forecast on future scenarios for the region
Digital map-table
GIS-maps which can be elaborated
If GIS is not available, the databases are necessary which can be used to make GIS maps
Contact data
Organisation: TU-Delft
Prof. Han Meyer, v.j.meyer(at)tudelft.nl, 0031-15-2785963
Organisation: PBL (National Environment Assessment Agency)
ir. Leo Pols, leo.pols(at)pbl.nl, 0031-6-50528863
Phase and tool category: Strategy development and Planning | Integral approaches
Spatial scale and time scale
Spatial scale: local (radius 500 meters) to regional (radius 100 kilometers)
Time scale: the tool intends to combine a short term perspective (< 10 years) with a long term perspective (>50 years)
Tool availability
Special equipment (e.g. a map-table) and special technical support and advice are necessary.
Downloads