Jakarta Climate Adaptation Tools
The main phase of the project Jakarta Climate Adaptation Tools (JCAT) will be officially launched in Summer 2011. In this project, two Indonesian researchers will carry out research to address problems related to flood risk management, climate change adaptation and spatial planning in the city of Jakarta. JCAT will be carried out under the flag of the International Delta Alliance and Delta Alliance Indonesia Wing, within the programmatic framework of Knowledge for Climate.
The overarching goal of the project is to contribute to the development of tools to assess, compare, and optimise options for climate adaptation of Jakarta as a Delta City. One tool will primarily be developed from a modelling background and aims at developing flood risk maps that give insights in the spatial distribution of risks as a function of hazards, exposure, and vulnerability. It sheds light on the effectiveness of flood risk reduction measures. Closely related, the research will develop a model to compare and optimise the costs and benefits of (combinations of) measures. Examples of adaptation options to be assessed with these models are forestation in the upper catchment areas, early warning systems, spatial zoning, drinking water reservoirs, and various options for coastal defence.
The research consortium consists of VU University Amsterdam, Gadjah Mada University Yogyakarta, Wageningen University, and Bogor Agricultural University. The research will be carried out in close collaboration with LIPI (The Indonesian Institute of Sciences) and stakeholders in Jakarta. A definition workshop was held in Jakarta in 18 January 2011. A kick-off workshop for the main phase is being planned for Autumn 2011.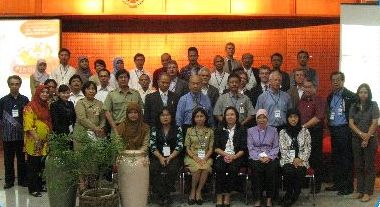 For more information on the project Jakarta Climate Adaptation Tools, please contact the project leader, Dr. Philip Ward (philip.ward@ivm.vu.nl).
AMCDRR Session
In October 2012, the Jakarta Climate Adaptation Tools (JCAT) team co-organised a session at the 5th Asian Ministerial Conference on Disaster Risk Reduction (AMCDRR) in Yogyakarta, Indonesia.
Definiton workshop
On January 18, 2011 a definition workshop took place in Jakarta to develop the joint research programme 'Jakarta Climate Adaptation Tools'. A draft report following the definition workshop can be found here.
Kick-off meeting
On 28 September 2010, a kick-off meeting of the definition phase of the project was organized in Rotterdam. Representatives from several institutions presented the project. Particular attention was paid to the two PhD topics and the planning of the project. Expected scientific outputs of the project are:
One PhD-study plus joint Indonesian-Dutch articles in international scientific journals on climate proof risk mapping
One PhD-study plus joint Indonesian-Dutch articles in international scientific journals on the application of SEA for integrated climate proof water and spatial plans
Two international conferences (one midterm symposium and one final conference)
Development of two teaching-modules (climate proof flood risk mapping and application of SEA) for university students and professionals in the field
Toolbox of methods for spatial planning and decision support
Presentation of results at international symposia and conferences