Land Use Planning as pillar for delta planning in Kenya
The Land Use Plan (LUP) for the Tana River Delta guides the involvement of all stakeholders in the Tana Delta. It also guides strategic Delta Planning towards lower risks and uncertainties, and specifically addresses risks associated with resource conflicts between local agriculturalists, pastoralists and large-scale agricultural schemes. The concept of this LUP is now also applied to other deltaic regions in Kenya and beyond.
On the 8th of July, the planning for Yala Delta reached a climax when the Governor of Siaya County in Western Kenya signed the Yala Delta Land Use Plan and Strategic Environmental Impact Assessment, which was developed by the African Delta Alliance Network Wing coordinator together with national stakeholders. This follows the first signing of the plan by the Governor of nearby Busia County a month earlier. Yala Swamp delta, shared by these counties, now becomes the second delta in Kenya to have a sustainable management plan after Tana delta.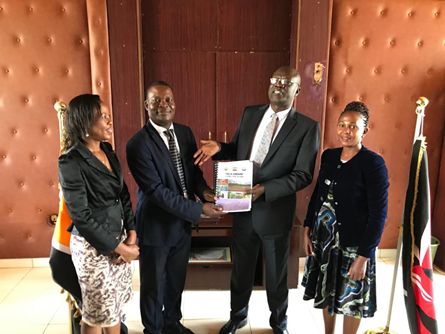 Presentation of Yala Delta SEA-LUP to Kenya wing and AfDAN coordinator Peter Odhengo and the Greening Kenya Initiative Trust (GKI) during the signing ceremony with H.E. Cornel Rasanga, the Governor of Siaya County in Western Kenya.
Delta Alliance
Thursday 18 July 2019