Workshop held to explore opportunities for international cooperation within a new Dutch Water and Climate program
The Dutch Wing of Delta Alliance organised a workshop on 21 April 2015 to explore the opportunities for international cooperation within research that will be carried out under the new Knowledge and Innovation program for Water and Climate (NKWK) in the Netherlands.
International cooperation is considered as a key to successful and efficient research within the NKWK. The newly appointed 'special envoy for water' of the Kingdom of the Netherlands, Mr. Henk Ovink, opened the workshop by stating the urgency of cooperation and continued research and innovation. Director of the Delta Alliance, Mrs. Renske Peters, presented the international knowledge gaps on water and climate research, and the opportunities in working together through the Delta Alliance. Dr. Zaw Lwin Tun, coordinator of the Myanmar Wing of the Delta Alliance addressed the attendees through a video message. Dr. Zaw explained the need for cooperation seen from Myanmar.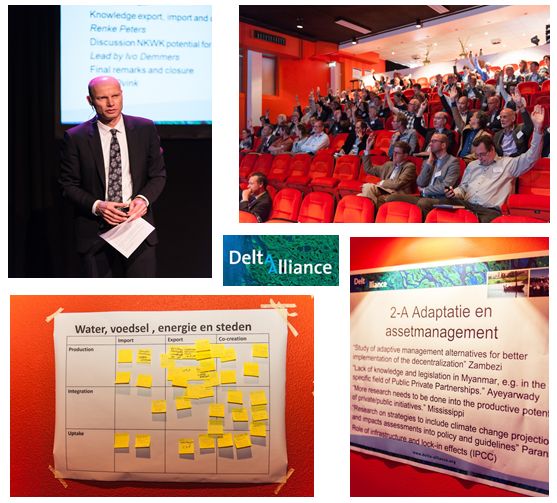 The presentations of the workshop, that was attended by 120 Dutch researchers, can be found in this compilation (pdf). The coordinator of the Ghana Delta Alliance Wing, Ken Kinney also prepared a video message for the attendees, which can be found later on in this article.
Delta Alliance Dutch Wing
Monday 04 May 2015