Meeting Report: Seminar on Adaptive Delta Management, Bangladesh Perspective (2 May 2017)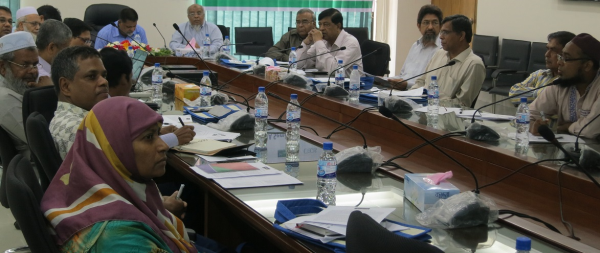 The Institute of Water Modelling and partners of Delta Alliance Bangladesh Wing organised a seminar on Adaptive Delta Management: Bangladesh Perspective on 2 May 2017 at WARPO Conference Room, Dhaka. Prof. Dr. M. Monowar Hossain, Executive Director, IWM chaired the seminar.
Dr. M. Shah Alam Khan, Professor, IWFM, BUET delivered the keynote paper in the seminar. Prof. Dr. Md. Ataur Rahman, Head, Department of Water Resource Engineering, BUET, Mr. Abu Saleh Khan, Deputy Executive Director (Opn), IWM, Mr. Md. Sarafat Hossain Khan, Director General, WARPO and Dr. Khondaker Azharul Haq, President, Bangladesh Water Partnership discussed on the keynote paper as designated discussants which was followed by an open discussion session.
Executive Director, IWM chairing the seminar

Presentation of Keynote paper
In his keynote Dr. Shah Alam outlined the background and evolution, concepts and principles tools and methods of adaptive delta management (ADM) in the context of Bangladesh. He elaborated the background ADM along with its challenges, ADM Cycle, Dynamic Adaptive policy pathways with examples, requirements of models for decision support of delta planning and management under uncertainty. He also mentioned the key considerations for ADM in Bangladesh in his presentation.
Designated discussants emphasized on the short term plans before moving forward to long term plans and to develop preparedness for uncertainty and to face unexpected challenges that were not considered in the plans. Recent Haor disaster was cited as an example. Alternative options were also suggested to think of. The discussants also addressed on political interventions which hampers implementation of plans. Examples of ADM in underdeveloped countries could be analyzed, they suggested. Holistic approach in water management and coordination of all relevant agencies were marked essential in the discussion.
Bangladesh Wing
Tuesday 09 May 2017